If you asked the question, "what is the most popular way known today for reaching and engaging customers"? The answer of course would be video. More and more business owners are turning to video to increase revenue for their businesses. It is for this reason that I am going to share with you, how to setup the perfect video studio on any budget.
How To Setup The Perfect Video Studio On Any Budget
When considering how to set up the perfect video studio without breaking the bank, it makes sense to categorize your options.
Free

Low Budget

Big Budget
In addition, also consider the main components necessary to build your video studio and the accessories for each component.
Component #1 – A Good HD Camera
Finding a good high definition (hd) camera may not be as difficult as you were led to believe. Most smartphones can be used as cameras. Phones like Apple's I-phone or the Samsung Galaxy series have great hd camera quality.
If you own a smartphone, then you can consider this a free way of acquiring a camera for your video studio. Smartphones are also great for on the go video takes as very little setup is required.
Other free options may include Tablets, or even the camera on your desktop or laptop computer. Of course when considering your choice, always make sure you use cameras that can shoot using pixels of 1920 x 1080 for optimum results in quality.
For those who are operating on a low budget Logitech makes some good webcams like the Logitech HD Pro Webcam C920 ($99.99).
The downside of using these types of cameras is that they need to be connected by USB to your computer to work. So this would not be a good choice for outdoor on the go videos. Coming in at US$99. make it ideal for the low budget user.
For those who consider themselves big budget spenders, digital slr cameras like the Nikon D3300 or the Canon Rebel T6 are excellent choices as they produce great quality video.
Component #2 – Get a Tripod to Stabilize Your Camera
After selecting your camera, you will want a tripod to stabilize it while filming. There are quite a few options you can consider here. If you are on a tight budget, you can use a bookshelf to steady your camera on or a stack of books.
The more commonly affordable tripods used would be ones like the Kobra Tech Mini Phone tripod stand. This retails for under $20.00 and has a number of features.
If you prefer a tripod that can reach heights as tall as you are and you are not afraid of bigger budget items, then the I3ePro series of tripods may be just what you are looking for. 
Component #3 – Optimal Lighting Kits
Good lighting is crucial for video. I can't stress this enough. A sure way to make yourself look unprofessional is to have poor lighting for your video. Here's a couple lighting options to consider that wouldn't break the bank.
The Photography Photo Portrait Studio 600W Day Light Umbrella Continuous Lighting Kit by LimoStudio, LMS103 is a bestseller and can be found at Amazon.com for a modest $55.99 price tag.
For the budget conscious, you can consider the LimoStudio Photography White Photo Umbrella Light Lighting Kit, AGG1754 at $27.99 . See here.
Component #4 – A Quality Microphone
The more expensive the mic, the better the quality. While there are some free options, if you're going to be investing your time in video, I would recommend you putting some money into a good microphone. Poor sound quality is tacky and cannot be condoned.
If you have a decent enough smartphone, then your audio should be fine. If you're using your smartphone to record video, the microphone should provide good audio as long as you stand close to the phone and film in a quiet room with no background noise or wind.
The more serious videographers might select from the following models or brands.
Lavalier Microphone Clip-on lapel Omnidirectional Condenser Mic US$19.99
Blue Yeti USB Microphone – Blackout Edition US$129.99
Blue Microphones Yeti USB Microphone w/ Knox Desktop Arm Stand and Pop Filter US$159.99 See image below.
Component #5 – Professional-looking Background
A nice backdrop can set the scene and tone for your videos. Whether you want to depict a fun and friendly setting or maybe corporate and professional, you must take a correct approach or your video would look poor and amateurish.
If you are on a shoestring budget, consider working with what you have. The great outdoors in a nice scenic area can do wonders. However if you are going to be indoors, I'll share with you a couple scenarios that might work for you.
Julius Studio 6 ft X 9 ft White Photo Video Photography Studio Fabric Backdrop Background Screen, JSAG103 US$13.99  
CXJ 5×7 Feet Wood Floor Photography Backdrops Suede Cloth Brown Wall Photo Background Studio J01391 US$33.99
There are numerous backdrops you can select from to suit your individual needs and taste, but it would just depend on how much you are looking to spend.
Component #6 – Video Editing Software
In learning how to setup the perfect video studio on any budget, your education would not be complete if you did not posses the best editing software.
There are many good video editing options available at various price points, but HitFilm is one of the best values for the money. Here's a rundown of some popular editing software options in order of free to most expensive
.
Available only for the Mac, iMovie (free) is easy to use and comes with a lot of useful features. It's ideal for beginners.
Hitfilm
HitFilm is my top recommendation, and it's available at several price levels for both PC and Mac. At the highest end, the versatility and features are geared toward filmmakers.
However, the free version is ideal for beginners and more savvy video pros. It has more features than iMovie and is just as easy to use. To get the free version, you have to tweet/post about HitFilm.
Camtasia
Camtasia ($199) is a simple tool that's easy to pick up. It's fairly versatile and can do screen recordings. You can get it for Windows and Mac.
Apple Final Cut Pro
Final Cut Pro ($299) is Apple's upgrade from iMovie for Mac users. It's powerful, versatile, and quick to use.
Component #7 – Graphic Design Software
In this final component that would wrap up " How To Setup The Perfect Video Studio On Any Budget", I choose hands down "Canva" as the #1 choice for creating the ultimate graphic designs for your projects.
You'll also need software to create thumbnail graphics for your videos and YouTube channel art. Canva has the updated sizes, guidelines, and templates you'll need to create these graphics. It's free to use (except for premium photos/graphics).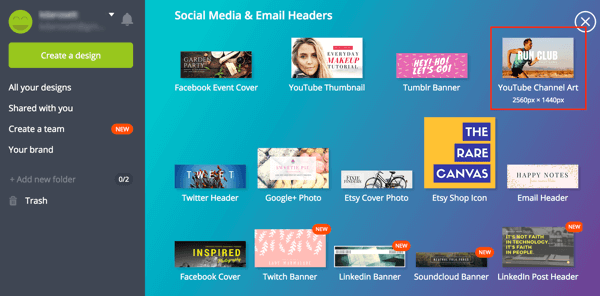 Obviously since you are going to be using Canva to create some awesome graphics you will need to find some great photos. If you're looking for free photos you don't have to attribute, check out Unsplash, LibreStock, Gratisography, Pixabay, or Pexels.
Conclusion
If you are going to seriously consider setting up your video studio which I sincerely hope you do, then this is what you would need to put aside by way of budget to get everything in one go.
There are two options being considered here, one for the lower priced budget and the second for the individual not limited by a spending cap, but both ideal if you are learning how to set up the perfect video studio on any budget. 
Small Budget Option #1

 – $178.00(one
time)
+ $4.50 monthly.
Camera: Smartphone
Tripod: KCOOL Octopus Style Portable and Adjustable Tripod Stand – $12
Lighting: LimoStudio Photography White Photo Umbrella Light Lighting Kit – $29
Microphone: Rode smartLav+ Lavalier – $79
Background: Slow Dolphin Fabric Video Studio Backdrop Kit – $58
Editing software: HitFilm
Design software: Canva and free photo sites
Additional Tools: TubeBuddy Pro Account – $4.50/month
Bigger Budget Option#2 –  $949 Setup + $38.99/month
Camera: Nikon D3300 – $449
Tripod: InnerTeck 70-Inch Professional Camera Tripod – $45
Lighting: Diva Ring Light and Stand – $238
Microphone: Blue Yeti USB Microphone with Arm Stand and Pop Filter – $159
Background: Slow Dolphin Fabric Video Studio Backdrop Kit – $58
Editing software: Adobe Premier Pro – $19.99/month
Design software: Canva and free photo sites
Additional tools: TubeBuddy Star Account – $19/month
I do hope you got value from this post. If you are looking to really become a success in your online business, besides having the right tools, you also need the right mindset grooming and training available to marketer today.
I want to invite you to watch the video showing how you can literally explode any business you go into with the right knowledge and training at your fingertips. Click the "Watch It Now Button below"!